So, you have finally bought a home that you can call your own, and you are planning to move in soon. With real-estate prices through the roof in Brisbane and property and house sizes getting smaller, many new home owners come to us for a professional bathroom renovations jobs with one goal in mind; make the most out of the space in our small bathroom. We have created a list of 20 ways you can utilise the space you have in the most efficient way possible, and actually make your small bathroom appear to be larger than it really is.
1. Get a Unique Towel Rack.
If you want to make the most of your bathroom space and don't want to look for a towel every time you wash your hands, then consider using a wine rack as a towel rack. Wine holders make a fantastic and elegant looking towel rack. They vary in size and don't take up much space.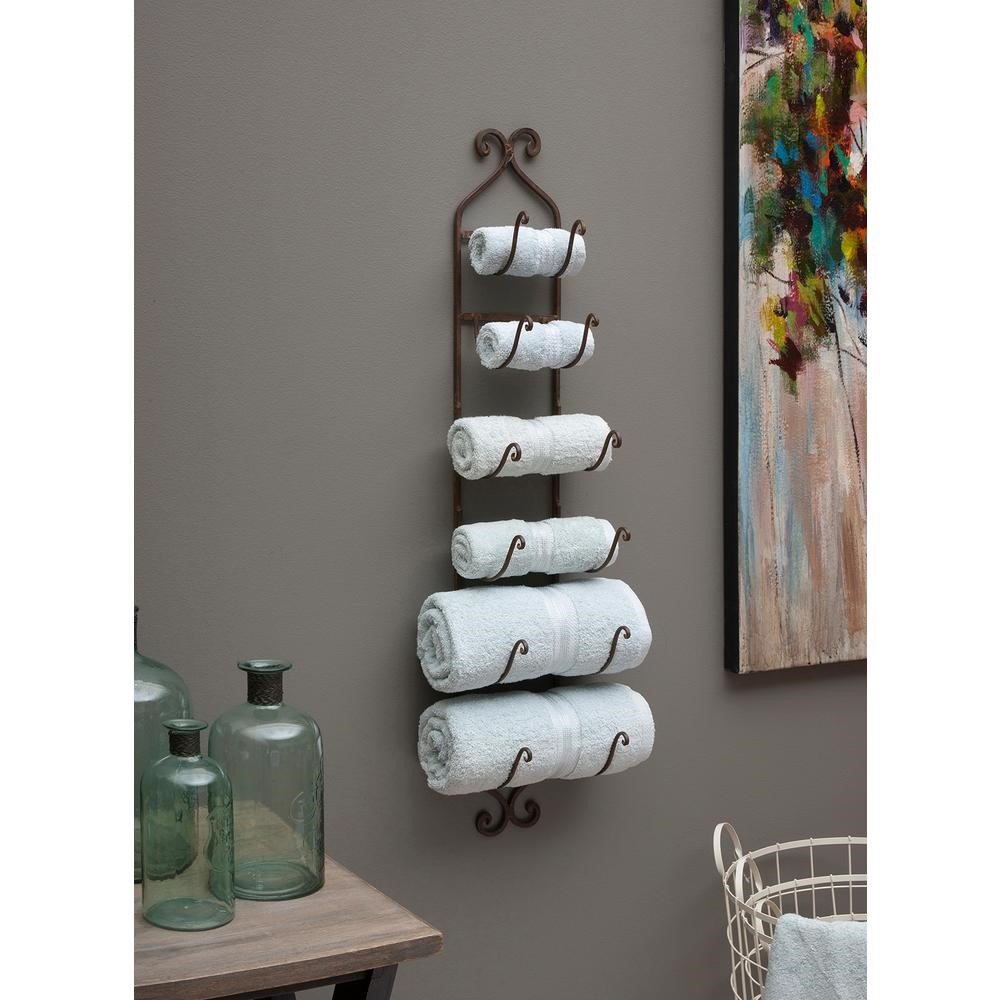 2. Store Supplies Smartly.
When you want to make the most of a small bathroom you can reuse an over the door shoe holder as a bathroom storage accessory. A great way to store all your bathroom toiletries or cleaning supplies. Shoe holders generally have ample space for all the bottles, lotions, creams you need on a regular basis.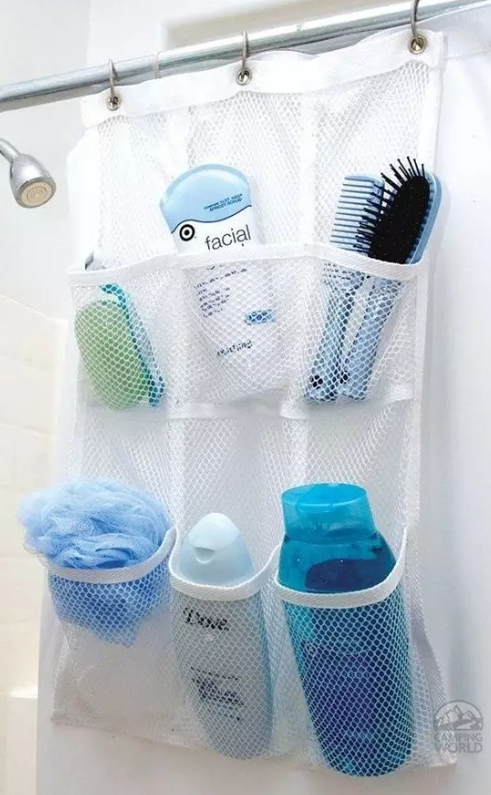 3. Hang Hooks.
If you have limited space for a towel rack, hanging some hooks can be a useful addition to any small bathroom renovation. There are many quality hooks out there that don't cost a lot, and remain sturdy even after months or years of use. Make sure you read the reviews before picking a brand.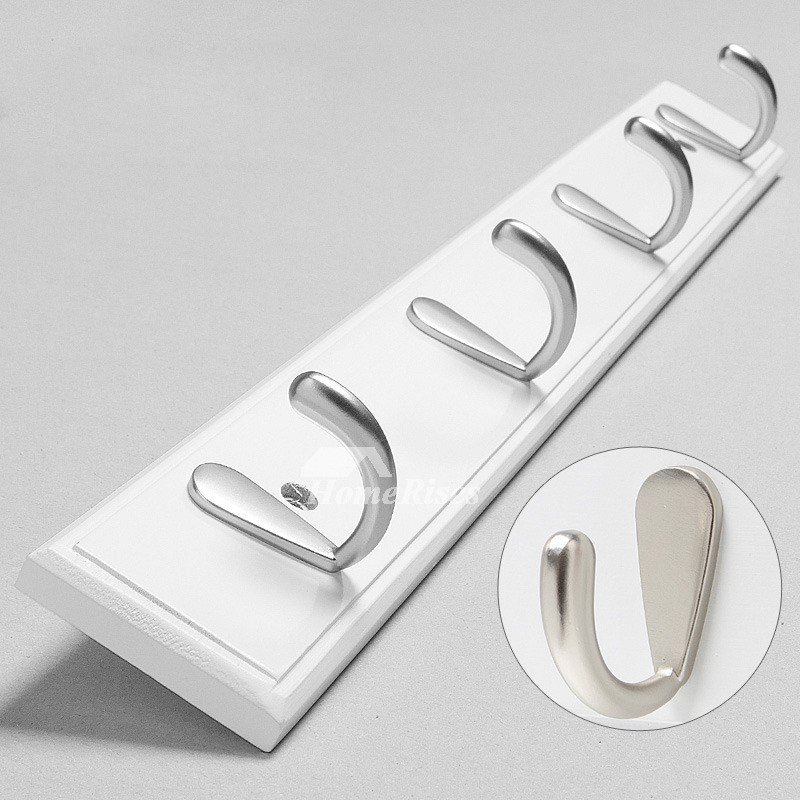 4. Create Floating Baskets.
If you are the crafty type, you can create floating baskets that will not only be ideal for storing towels and knick-knacks but also look stylish. This hack is particularly useful for women who like to clean the bathroom daily, keep healthy and want everything to be perfect.
5. Install Shelves.
Another smart idea is to install a shelf over the bathroom door and store the items you rarely use or probably regret buying. Make sure that you tighten the screws well or you might risk the shelf falling on someone's head.

The image below shows a smart combination of both points 4 and 5 combined, creating floating baskets and installing shelves.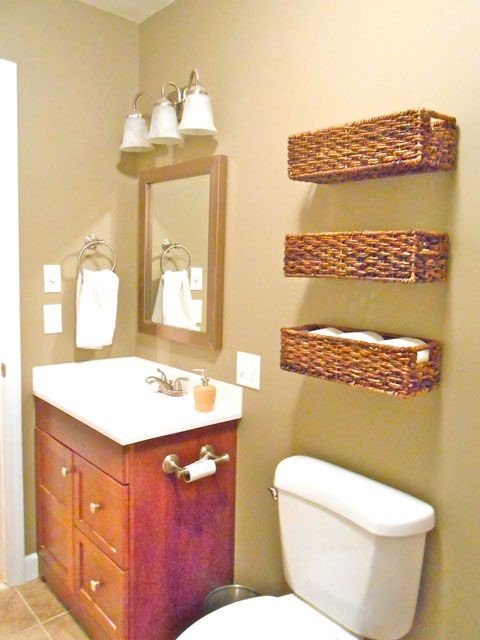 6. Manage Cleaning Supplies.
Most people think that their bathrooms have the most amount of bacteria, but studies are showing it may actually be your smartphone! If you are the type of person that likes to clean the bathroom multiple times a day, then it is likely that you have a few cleaning supplies. Get them out of the way in your small bathroom by hanging a tension rod in the shower or under the bathroom sink.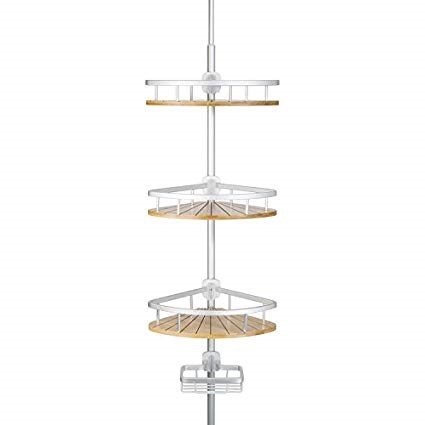 7. Keep Bulky Stuff Safe.
We all have some bulky accessories that we store in the bathroom like the bulky hair tools. The best way to store them in a small bathroom is to invest in a caddy or a file holder that can be put beneath the sink or on the side of the toilet. They are also a good investment if you like to read a magazine while on the toilet.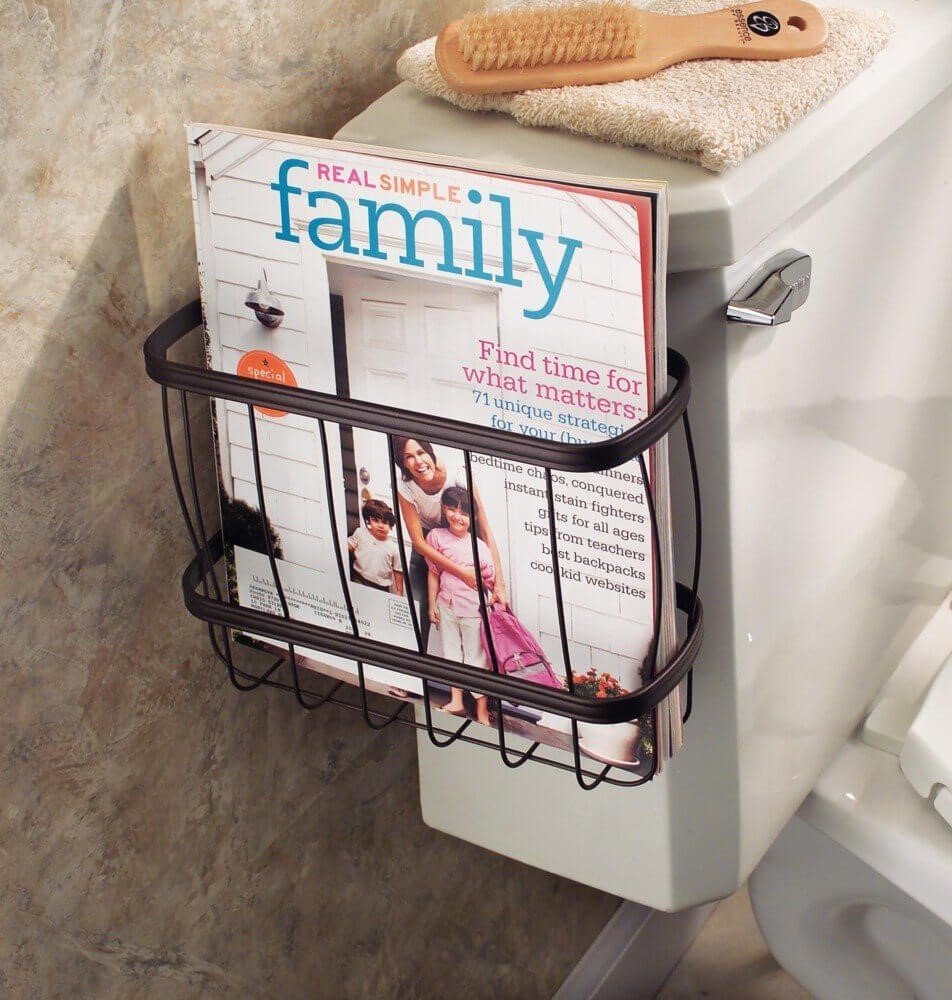 8. Add an Extra Rod.
When hoping to optimize bathroom space use, make sure you add a second rod in the shower. It will allow you to store everything you need like bottles, lotions, razors and kids toys safely. Make use of shower curtain hooks to ensure that the rod is strong.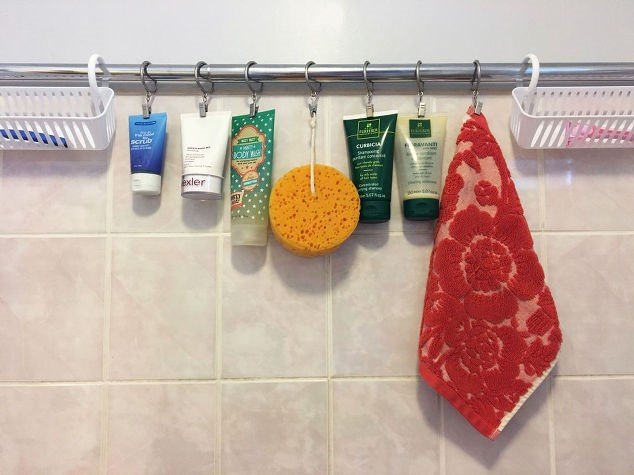 9. Improvise the Shower Curtain.
You can also improvise the shower curtain that you already have by adding a few pockets to it. These pockets can hold light stuff like your earrings, cuff links, and new styles even hold your smart phone which you can used while in the shower. The once shown in the picture below can be purchased on eBay for around $25.00.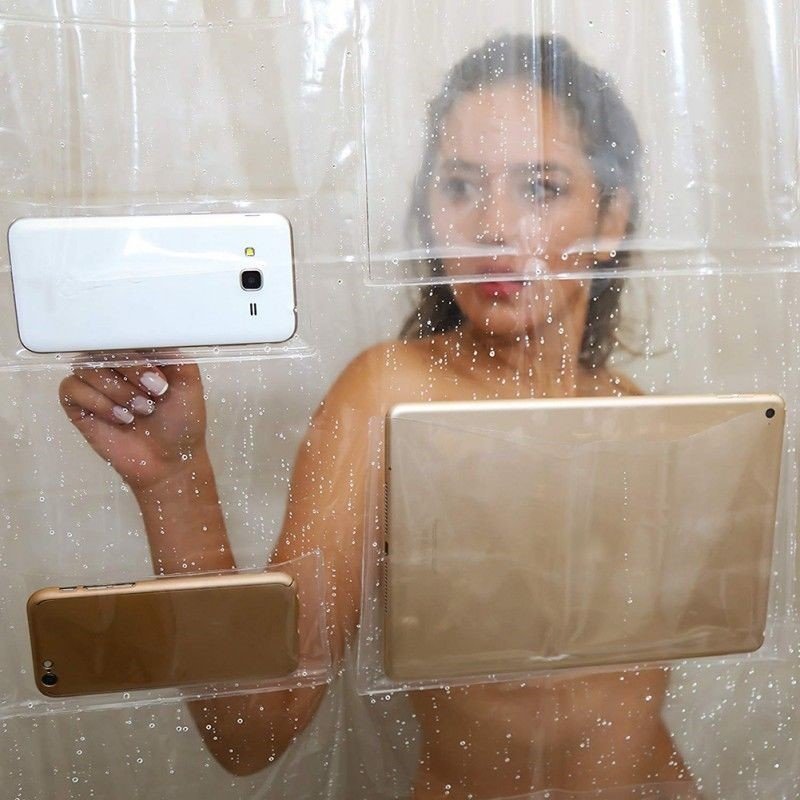 10. Get Rid of the Glass.
Though a glass door looks pretty in a bathroom and gives the Hollywood-type feel, it's not practical in a small bathroom. It's another wall you don't need. If you are thinking about undertaking a new bathroom renovation and have limited space, remember to talk to your plumber about a renovation style that has no shower screen or glass. For existing bathrooms, you can replace the glass with a shower curtain that moves back and forth, unlike a glass door that moves in or out.
11. Install Wall-Mounted Faucets.
To save space, you can also mount faucets on the wall. They allow you to go for a narrower vanity or sink. Wall mounted faucets are a classic option, they look good in even traditional or modern bathroom interiors.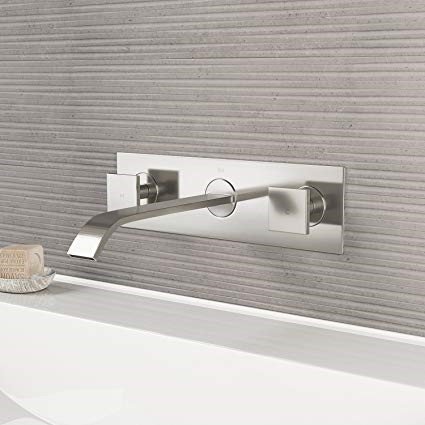 12. Go for More Mirror.
If you have to share the bathroom with another person like your spouse or your children, it is a wise idea to add an extra mirror or one large mirror to the bathroom. Installing a big mirror is one of the best ways to artificially increase the size of your bathroom. The bigger the mirror, the bigger your bathroom will appear. It will allow two people to use the bathroom at the same time and negate the need to wait outside.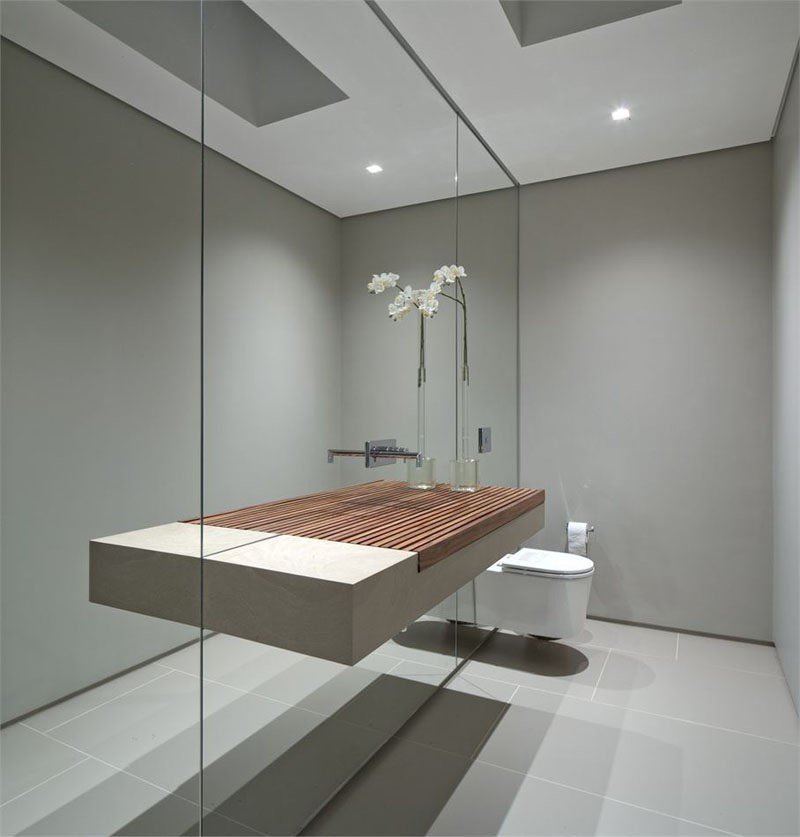 13.Put Towels on the Door.
When you have a small bathroom and a bathroom renovation is not possible, you should save space by mounting the towel bar on the back of the door. It will help you to dry off fast and negate the need to bend to get the towels or rummage for them in a linen closet. When the door is open, the towels are out of sight. The only downside is, in some bathrooms a lack of fresh air or a breeze will delay them drying properly and will cause the towels to smell. If this is the case, then you need to wash your towels more regularly.
14. Think About Over the Toilet Counters.
Another great way to increase bench space in your bathroom. Over the toilet counters are usually made of wood or stone and can be as narrow or wide as you want them to be. If you have hygiene concerns, keep them a few feet over the toilet seat.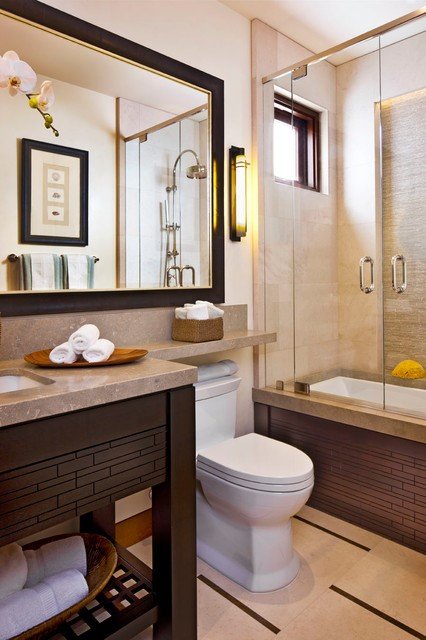 15. Install an Automatic Flush.
If you want to save space and are an environmental enthusiast then invest in an automatic flush. They don't take a lot of space and can be customised to help save water use in the toilet. This is more of a money saving tip than a space saving tip.
16. Store Cosmetics Smartly.
A great storage option for makeups and cosmetics is to store them in small organizers on the inside of the bathroom cabinet. This way they will be away from the water splashing from the shower and be handy in busy mornings when you rush to the work at top speed.
17. Extra Counter Space.
When you want some extra counter space, but are space conscious, you can install a picture ledge above the sink. They can be used as a storage space for all those extra bottles and you can also use them to enhance the beauty of your bathroom by displaying nice candles, soaps or lotions.
18. Buy a Skinny Cabinet.
If you have some extra space next to the sink in your bathroom, you can make the most of the area by buying a skinny cabinet that fits the spot. You can even add a skinny cabinet in the space between the sink and the toilet.
19. Use that Old Spice Rack.
If you have an old spice rack lying around somewhere, you can use it beside the sink and use it to hold toiletries. Be trendy and paint or stain it before installation so that it matches the interiors of your bathroom.
20. Use Mason Jars.
Those of you who don't have a spice rack lying around can also use mason jars for the same purpose. You can stick them on the wall in a single line or be creative and try a unique formation like three jars below, two above them and one on the top.
These 20 tips on ways to make the most of a small bathroom were brought to you by Pipes Plumbing & Gas. If you need a small bathroom renovation, contact us for a free quote.